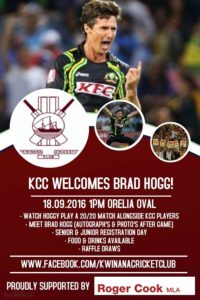 Kwinana Cricket Club is excited to announce that Perth Scorchers / Melbourne Renegades superstar Brad Hogg will be throwing on the KCC uniform and competing in our annual Fiona Harris 20/20 match on Sunday, September 18th. Be sure to bring your Scorcher shirts and your cameras, as Hoggy will be conducting a Meet & Greet with spectators, which includes signing autographs and taking pictures after the game! Food and Drinks will also be available from our canteen/bar.
Senior and Junior Registration day will also be occurring at the event so be sure to come down and sign up while watching the mighty KCC in action!
For your chance to PLAY in this game and potentially play alongside Brad Hogg, make sure you come down and show your face during our pre season training sessions and sign up as a Kwinana Cricket Club member for the 2016/17 season.
*FREE EVENT*
Event Photography provided by Leah Allies Photography.
This event and the Kwinana Cricket Club is proudly supported by Roger Cook.